Decking
Routine Care Task
Clean and seal deck surfaces
Priority





Cleaning and sealing your decking will help extend it's useful life.
NOTE: The tasks and timings shown here for your Decking are based on a single-family home (owned), located in Massachusetts, United States, with priority set at '1 star' or higher, for all possible goals.
If you set your personalization differently in your Home Wizard app, then you may get reminders for different tasks and timings in your recommended home care program for your Decking.
How To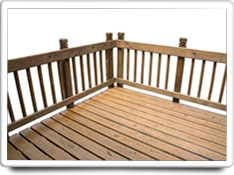 Depending on your type of wood, cleaning and sealing decks typically requires 3 steps:

Day 1: Sweep off all dirt and debris; allow surfaces to dry.

Day 2: Spray on an oxalic acid solution; allow to sit per the manufacture's recommendation, then hose of with water.

Day 3: Apply a good sealant.
Benefits
Maintaining Value

Appearance

Avoiding Unscheduled Repairs

Child Safety
The benefits of this task are that it maintains the appearance and extends the useful life of your decking.
Costs





The cost of this task is relatively high from an investment of time standpoint.
Other Routine Care Tasks
J-Lo`s Handyman Services
Home Repairs, Improvements and Remodeling
Decking